2 Minute Elevator pitch
Blogging since 2006- 2200+ posts and 18000+ comments
Alexa India Rank 12000-14000 (Approx range at present)
Traveled to 23 countries and counting
Key focus areas: Travel, lifestyle, automobiles
Average posting frequency- 4-5 times a week
DA: 34, PA: 42
Detailed Profile & stats
I'm Shrinidhi Hande, I am an Associate Manager in an MNC and in my free time, I pursue blogging as a hobby and passion. I'm 33 years young and currently live in Chennai, India. My key interests are travel, adventure and automobiles.
During tandem skydiving in Mysore, December 2013
Connect with me on
Facebook
*
Twitter
(3500+ followers) *
LinkedIn
*
Instagram
(850+ followers)*
Youtube
(600+ subscribers) or mail me: admin at enidhi dot net
Click on the link to know more about me as a
Blogger and Writer
*
IT Professional
*
Travel Enthusiast
*
As a blogger and Writer
Blogging since May 2006, eNidhi.net (initially on enidhispeaks.blogspot.com) is completing 10 years. This blog focuses largely on travel, automobiles, lifestyle and product reviews.
Key stats as of March 2016:
Google Page rank: 3
Indiblogger Rank: 81 (Updated July 2015)
Alexa Rank: India: 13500, Global: 130000 (as of March 8, 2016)
No of posts: 2200 and counting
Comments so far: 18000+
Frequency of update: 4-5 posts per week
Domain Authority: 34, Page Authority: 44
Klout Score: 63
Note:
Stats are dynamic and change over time. Ask me for latest if required.
This blog is recognized as one of the top travel blogs in India by several independent surveys. Quick list below:
Year 2017
Speaker at Travelers Meet, Chennai, May 2017
Year 2016:
Dec 2016:
Spoke at How to Travel the world on budget unconference, Chennai
Feb 2016
: Recognised among top 20 travel influencers in India by
Influencer.in
July 2016:
Travel Globe.com
20 most creative travel bloggers of India
July 2016
: Ankionthemove:
Top 20 people I met on the road
August 2016
: Featured in
Techdivine Power Digital Users
Year 2015:
1. Baggout
"
16 socially active travel blogs in India
"
2.TravelGenes
20 Awesome Travel Bloggers to look out for in 2015
July 2015:
Got my first physical Best blogger award- Best Urban Chennai Blogger award at EchovMe Urban Tree Chennai blogger's meet.
Year 2014:
1. Myoksha's list of
Top 15 Indian Travel Bloggers 2014
2. Quoted in this
Travelfriendz.com
's profiling of select travel bloggers
3. Social beat
Top lifestyle bloggers in Chennai
Year 2013 :
1.
Why Travel
Top 51 travel blogs and magazines in India
2.
HotelDepot
Top 30 travel blogs in India-2013 (link is down now)
Year 2010
I was one of the 3 Official Bloggers for Tata Nano, for the
Tata Nano Superdrive Green Route
, (Season 1, 2010) a 26 days Road trip covering entire south India. [
Details
]. This blog has facilitated business worth up to 30 lakhs by providing a platform for readers to buy and sell memberships [
Read More
]
I'm contributing as an Official/Guest Blogger at various corporate and group blogs
, such as
I have given couple of talks at academic institutions about Social Media
A talk at a CII Innovation Event about Social Media for Students, 2011 [Details]
A talk about relevance of blogging at Loyola College, August 2010 [Details]
Talk about Blogging and workshop on blogging- MSRIT, September 2008
Talk at MIC Manipal during Article 19, 2009
Talk about Corporate Blogging- MMSC- Manipal Institute of Communication, 2008
Talk on Social Media at Tumkur University, Feb 2012 [Details]
I've been regularly writing articles that are published in mainstream media
. Some of them are:
I have live blogged several events and conferences as an Official Blogger
.
Some of them are:
CII Connect 2010, Tamil Nadu's premiere ICT event, jointly organized by CII, STPI and Govt of TN
IAMAI Conference on Digital Payments and Financial Inclusion, Hotel Tajmahal Palace n Towers, Mumbai, 6th August 2010
IAMAI Free for SMEs Conference, Delhi, July 6 2010
IAMAI Mobile Application Developers' Meet, IIM-Bangalore, June 29 2010
IAMAI Marketing Conclave, 29th April 2010, New Delhi
IAMAI Mobile Ad Conference, 7th April 2010 Mumbai
IAMAI Conference on National Security and Digital Technology, 24th March 2010, New Delhi
CII Connect 2009 Conference, Chennai, 2009
WebInnovations 08 Summit , May 2008, Mumbai
I was quoted in several print articles and TV shows over time
Auto Car India story o self drive car rentals-May 2015- link
NDTV Good times, Road Trip Thailand show, April 2014
TV9 Kannada and English quotes Shrinidhi in its report on Tata Nano Superdrive [Watch video]
Mangalore Today quotes Shrinidhi regarding Tata Nano Superdrive, June 2010 [Read]
Deccan Chronicle features Shrinidhi Hande in an article about Windows 7 [Read More]
Mint features Shrinidhi and his blog in an article on Mainstream media lifting contents from blogs [Read]
Times of India publishes a photograph clicked by Shrinidhi Hande, without authorization and later publishes clarification [Details]
Chennai Times quotes Shrinidhi on trekking
Chenaai Times quotes Shrinidhi on fuel price hike
As an IT Professional:
I have close to 11 years of IT Experience. I started off my career as Software Engineer at Satyam and then handled key responsibilities as a Business Analyst. Currently I am working as a Sr Business Analyst at a leading IT services and consulting MNC, specializing in software products. I've worked for several fortune 500 clients in the space of Container Shipping, Oil and Gas, Pharma, e-Commerce and Consumer Retails. More details on
LinkedIn
. Detailed professional profile is available on demand.
As a Travel Enthusiast:
I enjoy travel and exploration, particularly renting cars on self drive and going on long drives. I've been fortunate to be able to visit 10 countries so far (Tripadvisor says I've covered only 7% of the world), but have much more to cover.
Some of the travelogues
:
International Travel:
I don't call myself globe throttler yet but I've had my share of world travel. Have been fortunate to visit about 17 countries so far and wish to explore more. According to Tripadvisor travel map I have covered 12% of the world so far.
Check these posts for details of US,
Chile
*
Srilanka
*
Singapore
* Europe *
Australia
*
Denmark
*
Germany
and
Malaysia
travel
Countries visited (listed in the order of visit, first one first):
India (11 states and 4 UTs yet to be explored)
Srilanka
Chile
Malaysia
USA
Singapore
Thailand
Denmark
Sweden
Germany
Netherlands
Belgium
Lithuania
Norway
Switzerland
Finland
Australia
Macau
Hong Kong
Indonesia
Maldives
Philippines
Japan
Bhutan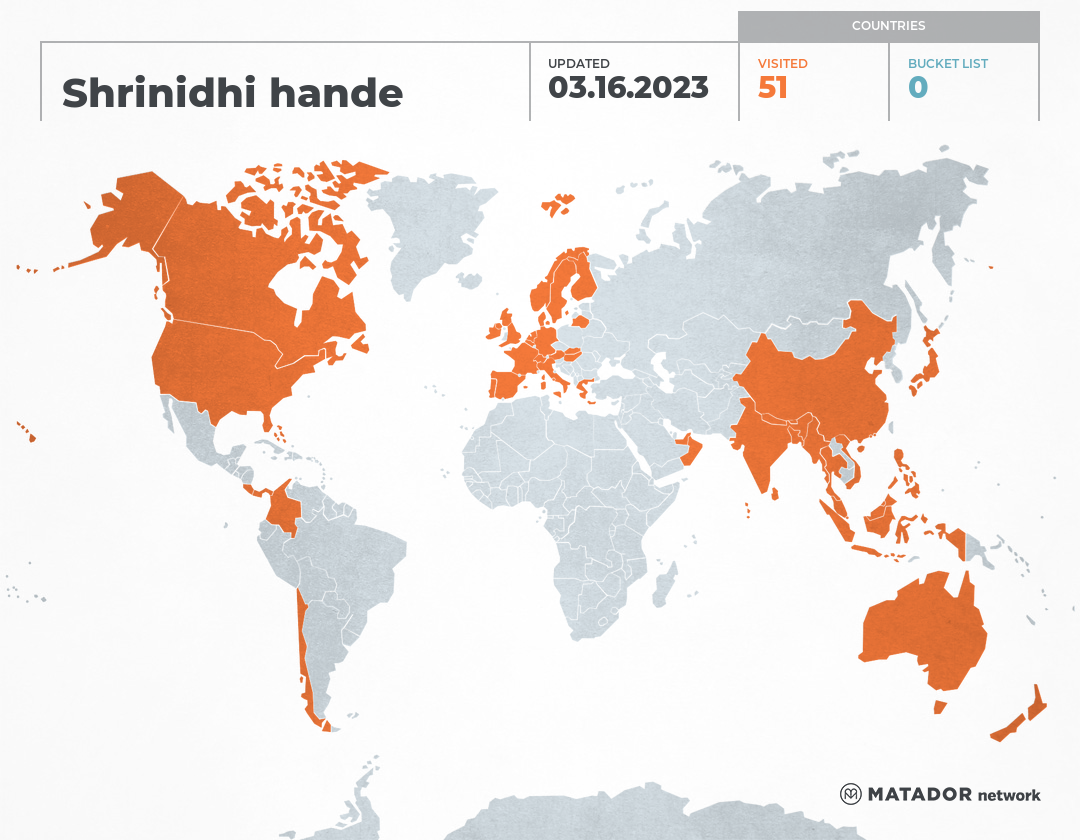 Shrinidhi hande has been to:
Australia
,
Belgium
,
Bhutan
,
Chile
,
Denmark
,
Finland
,
Germany
,
Hong Kong
,
India
,
Indonesia
,
Japan
,
Lithuania
,
Macao
,
Malaysia
,
Maldives
,
Netherlands
,
Norway
,
Philippines
,
Singapore
,
Sri Lanka
,
Sweden
,
Switzerland
,
Thailand
,
United States
.
Brands I've worked with:
Contact Details:
I will be happy to work with brands- particularly auto, travel, lifestyle, tourism boards. You can leave me a message on facebook or mention me in twitter, write a comment on this post with your contact details (which will not be published if you wish) or mail me at admin at enidhi dot net