Ending the year with an Indiblogger Award (IBA2017- Tamil Nadu category)
This Saturday I was declared winner under Tamil Nadu category by Indiblogger's IBA2017 (Indian Blogger Awards 2017 edition)
There're dozens of awards online these days, but I detest almost all of them because of the way they are designed. All of them need participants to promote the award giving website and make people vote for them. Many fall for this trap, promote the website for free, make their friends and family give up their personal information, sign up and vote. The award giving website gets huge user base, traffic and other social benefits which it can exploit for commercial benefit later with near zero effort or expenditure. This quantity based awards are tough to win- there is always someone who can mobilize few more people and bag few more votes. The time and effort spent in securing votes vs super low probability of winning makes such awards/contests just not worth.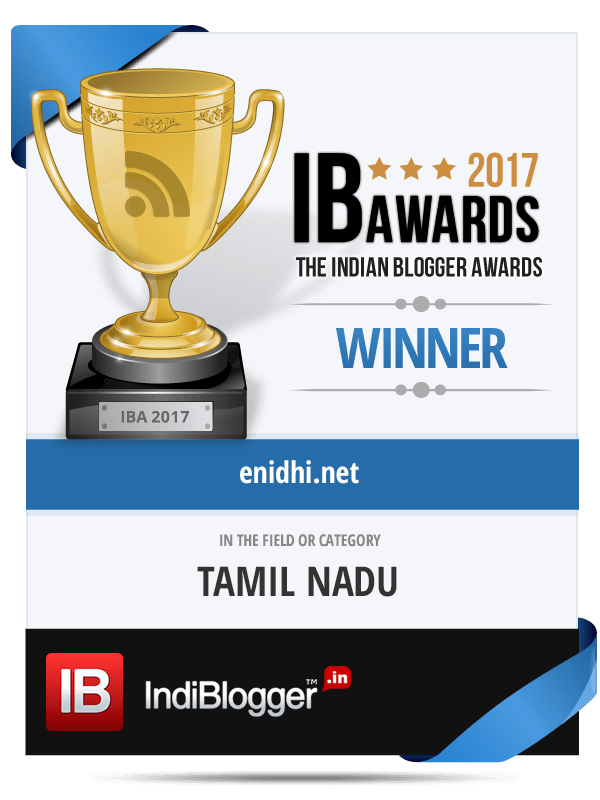 However, thanks to platforms like Indiblogger who still respect quality over quantity. When Indiblogger rolled out the IBA 2017 awards few months ago, I didn't take it seriously during the initial days- bloggers had to nominate themselves and seek recommendation. But eventually organizers came out and clarified the process. It is self nomination because only blogger can decide which is the right category for him/her and what are the 3 best posts the judges should consider while reviewing their blogs. Also, recommendations carry only 20% weightage and rest 80% will be decided by a highly qualified panel of judges. This felt great- because I don't have to chase votes and can trust the judges to select best blogs.
Then I nominated myself. Each blogger was allowed to pick 3 categories- I opted for Travel, Automobile and Tamil Nadu. It was tough choice to select 3 categories and 9 best posts (3 for each) out of 2300+ posts I have written over a decade. While travel and automobile were straight forward choices, I had to debate a lot for the 3rd- Karnataka, my home state or Tamil Nadu where I am based since over a decade, or other topics like Photography etc. Glad I selected Tamil Nadu. I asked my friends on Facebook if they can write a short recommendation. Over 35 of them came forward and wrote encouraging testimonies. Good thing here was that those who wish to write a testimony could simply use facebook login, no need to create a fresh account on Indiblogger. Another plus.
Then several months passed, nothing much happened. Indiblogger is a community of 1000s of bloggers. Judges would have had tough time reviewing several thousand blogs and even more blog posts and recommendations. That explains the time taken to announce award ceremony dates.
Eventually it was announced that winners will be declared on 30th December, just a day to spare in 2017. Like all other bloggers, I also awaited the ceremony with a thought that may the best blog win and with some curiosity if I stood a chance in any of the categories.
Then the moment came- as they announced Tamil Nadu winner, it was me.
I also noticed they showed some nice lines about me- that I don't hesitate to stand up to big brands and that I've been on Indiblogger since 2007. Unfortunately don't have a screenshot of that.
Doesn't look like there's any cash prize or other physical rewards. That is fine. The recognition from reputed platform like Indiblogger is worth a lot. My hearty congratulations to all other winners who won under various categories. Particularly Rajiv Verma, Atul Sharma, Ragini Puri, Divsi, Shailaja, Vidya Suri, Raju PP, Maitreni Mishra, Srinidhi TG, Bushra Muzzafar, Kartik Kannan and others (somehow there's no one place with complete list- bit hard to scan through multiple pages and collate) Thanks to Indiblogger for being such a nice platform for blogging community.
I also understand it will be disappointing to hundreds of bloggers who did not win. Particularly those who would have come close to top 3 in each category and would have missed by small margin. Best wishes to them in 2018.
Thanks to each one of you for reading my blog, commenting on it, liking or sharing on social media and supporting in various other means. With this I wrap up 2017. Looking forward to 2018.
Previous awards
-
Best Chennai Urban Blogger award
*
Also read:
Best of 2017
*